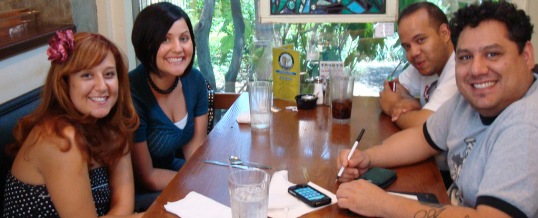 The best part about living in Texas is that you get the best Tex-Mex in the country. After all it is what puts the Tex in Tex-Mex. If you are fan of Tex-Mex, you should try your favorite foods at One of the top Tex-Mex restaurants in Austin—Trudy's on Little Texas Lane. Located less than a mile from your apartment in South Austin, Trudy's is a great spot to dig into a taste of Tex-Mex heaven.
Trudy's is known for providing its customers with a great time over their delicious entrees and amazing cocktails without making their wallets suffer. You might have a hard
Invite a couple of friends to Trudy's and make your dining experience at Trudy's an enjoyable one.
time deciding which delicious entrée to dig into first because they are all so good; but regardless of the entree you choose, your tab won't skyrocket with meals no higher than $12.50. If you enjoy a little bit more Tex in your Tex-Mex meal, you will probably like their southern specialties and green chile sandwiches equipped with steaks, burgers, and chicken choices. And if you want a little more Mex, try their taco dinner, enchilada combinations, burritos and quesadillas. And for those who nosubhealth.com enjoy a great cocktail to complement their dinner or lunch, Trudy's also has daily drink specials that include their famous house margaritas, Mexican martinis and the Lone Start Draft Happy Hour.
Trudy's will have you leaving with a full stomach, happy smile and inexpensive tab. Their wonderful service and delicious food will turn your rough day into a relaxed day. Call up your friends to meet you for happy hour or have a fun family dinner not too far from your Regency Park apartment.
Don't forget to tell us what you loved about Trudy's afterwards in the comments section.
Share